US agents rescue 360 pitbulls in dog fight raid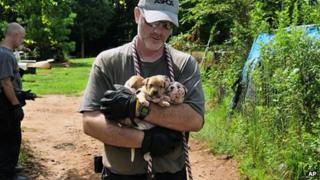 Police in the US have rescued more than 360 pitbull terriers and arrested 12 people as they broke up an organised dog fighting ring, officials said.
Authorities said the malnourished and mistreated dogs were recovered along with $500,000 (£320,000) in raids on Friday in Alabama and Georgia.
US Attorney George Beck said bets on a single dog fight had risen as high as $200,000.
The defendants face federal dog fighting and illegal gambling charges.
Court-appointed lawyers for some of the defendants told the Associated Press their clients planned to plead not guilty.
Mr Beck said the number of dogs seized in the case "shows how extensive this underworld of dog fighting is".
"I believe if Dante were alive today and rewriting the Inferno that the lowest places in hell would be reserved for those who commit cruelty to our animals and to our children," he said at a news conference on Monday.
Sheriff David Sutton of Coffee County, Alabama, said the dogs at one home were covered by fleas and chained to heavy car parts.
Other officials said some pitbulls were so malnourished their ribs protruded or had bad wounds that required emergency care.
"Those animals can't speak like you and I," Sheriff Sutton said. "We chose to speak for them, and I believe we sent a message out. If you do the crime, we are going to come see you."
Representatives from the American Society for the Prevention of Cruelty to Animals and the Humane Society of the United States said the groups were caring for the animals.
The dogs will be kept as evidence as the cases are tried, but the groups said they hoped eventually to retrain the dogs and place them in new homes.