US couple married for 66 years die 11 hours apart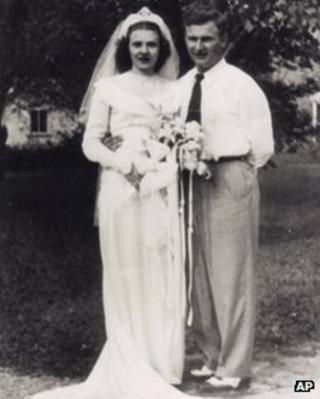 An elderly Ohio couple died 11 hours apart in their shared nursing home room, nearly 66 years after they were first married, US media report.
Harold and Ruth Knapke, who began courting by post during World War II, died on 11 August.
"I think we all agreed it was no coincidence," Carol Romie, one of their six children, told ABC News.
While Ruth Knapke, 89, was the first to fall ill, Harold, 91, died first. They were buried together.
Their children told the Dayton Daily News it was his "final act of love".
"We believe he wanted to accompany her out of this life and into the next one, and he did," Margaret Knapke said.
Mr Knapke was a teacher, coach and athletic director in Fort Recovery, Ohio, while Ruth Knapke worked as a school secretary after staying at home to raise the couple's children, according to ABC News.
A joint funeral procession stopped outside the home where they had raised their family.
The current owners lowered a US flag at half mast to honour the couple.
Their 66th wedding anniversary would have been 20 August.