Police watch over first day back at school in Chicago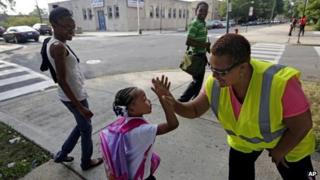 Chicago police stood guard as thousands of pupils walked to unfamiliar schools on the first day of classes.
As many as 12,000 students out of 400,000 in city-run schools walked new routes, often crossing gang boundaries, after Chicago closed nearly 60 schools amid budget constraints this year.
Some parents, teachers and community activists fear the new routes to school put children at risk of violence.
No incidents of trouble were reported on the first day, police said.
'Show and tell'
"I'm seeing small groups of kids being walked to school by their parents, or their older brothers or sisters," Police Superintendent Gary McCarthy said.
"This goes to the heart of what we've been talking about since I've been here, which is, to me, this is an opportunity. This is true community policing."
But some said they were worried the authorities would not keep up the show of force and children could become more vulnerable as the school year progressed.
"I think it's just show-and-tell right now," resident Annie Stovall told the Associated Press. Her nine-year-old granddaughter will now attend a school about five streets further away from home.
"Five, six weeks down the road, let's see what's going to happen."
Killings near routes
Meanwhile, a police officer said the police department was under so much pressure that the children "better not get a splinter or we'll all be out of a job".
In March, the city announced the school closures would save about $1bn (£640m) over 10 years.
In addition to the police officers, the city of Chicago has hired 600 volunteers paid $10 an hour to watch the 53 new routes guarded under a city programme called Safe Passage. The programme has been running since 2009.
Chicago Mayor Rahm Emanuel has also spent money repairing street pavements, replacing street lights, painting over graffiti and boarding up about 300 vacant buildings.
So far this year there have been 133 shootings and 38 killings close to the new Safe Passage routes, according to data analysed by Chicago radio station WBEZ.
Chicago newspapers reported at least two fatal shootings on or near Safe Passage routes on the weekend before schools reopened.