US ice skater Simon Cho banned for sabotaging rival's skate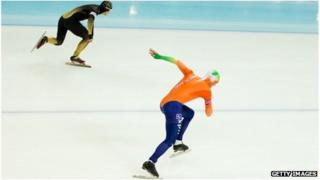 One of America's biggest ice-skating stars has been banned for two years after tampering with a rival's skates, US Speedskating says.
Simon Cho's suspension lasts until October 2014, so he will miss the Winter Olympics in Sochi, Russia.
After denying wrongdoing, Cho said in October his coach told him to sabotage Canadian Olivier Jean's skates during the 2011 World Team Championship.
The International Skating Union has also banned Cho until August 2015.
News of his suspension came on the day the US team for the short track event was announced, ahead of the World Cup championship.
'Biggest mistake'
Cho won a bronze medal at the Vancouver Games and an individual world championship in 2011.
He said altering Jean's skate had been "the biggest mistake of my life", and alleged that his coach had put pressure on him to do it after becoming convinced the Canadians had helped other athletes to knock out the US team.
Last October, Cho said: "I always knew it was wrong that day. I hope that I can make up for my mistake and continue to skate in the future."
His coach, Jae Su Chun, denies having any role in the sabotage.
Cho used a blade bender, normally used to keep skates to the correct radius in short track, to tamper with the skates.
US Speedskating said in a statement: "As an organisation, we are focused on supporting our athletes as they begin the season and work toward competing on the international stage at the 2014 Olympic Winter Games."