Thieving New York socialite heir Anthony Marshall paroled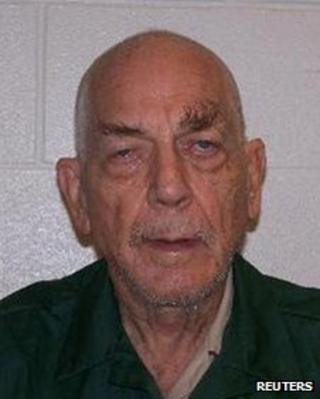 The heir to New York society doyenne Brooke Astor has been freed, two months after being jailed for stealing millions from his ailing mother.
Anthony Marshall, 89, was granted medical release because of illness after being interviewed by the parole board, said state prison officials.
He began serving his one to three-year sentence in June, after battling for years to overturn his conviction.
Brooke Astor left a fortune put at $180m (£115m) when she died in 2007.
Marshall, her only son, was found to have given himself an unauthorised pay rise of $1m for managing her finances, while she had advanced Alzheimer's disease.
He also manipulated her into changing her will to secure for himself millions of dollars of inheritance that were intended to go to charity, prosecutors said.
In releasing him on Thursday, the parole board found Marshall - convicted in 2009 of first-degree grand larceny - was suffering from a serious, though not terminal, illness.
Commissioners wrote that it creates "a reasonable probability that you do not present any danger to society", the Associated Press news agency reports.
But Manhattan prosecutors expressed dismay that Marshall - a WWII hero, former US ambassador and Broadway producer - had served just a fraction of his sentence.
The trial, which opened a gilded door on New York's elite social cliques, heard testimony from such witnesses as former US Secretary of State Henry Kissinger and celebrated broadcaster Barbara Walters, among others.
Astor, who died aged 105, was a noted philanthropist who played a prominent role in New York's social life, showering millions on institutions such as the New York Public Library and the Carnegie Hall.
She inherited her fortune from her third husband, who was descended from one of America's first multimillionaires, John Jacob Astor.