Ex-NFL player Aaron Hernandez indicted on murder charges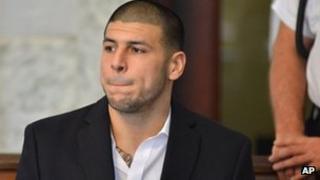 Former New England Patriots player Aaron Hernandez has been formally indicted on murder and weapons charges in the death of a friend.
He is charged with murdering Odin Lloyd, who was found dead a mile (1.6km) from Mr Hernandez's home.
The 23-year-old former National Football League tight-end faces life in prison if convicted.
His lawyer, Michael Fee, said he was looking forward to testing the prosecution's evidence.
"There has been an incredible rush to judgment in this case," Mr Fee said.
He contended that prosecutors could not prove the accused had killed 27-year-old Lloyd, who was a semi-professional football player.
Mr Hernandez was dropped from the Patriots - and his $40m (£25m) contract - shortly after his arrest in June.
He was drafted by the team in 2010 after playing football at the University of Florida.
Prosecutors have alleged that Mr Hernandez killed Lloyd over a dispute several days before.
According to authorities, Mr Hernandez and two friends picked up Lloyd at home in the early hours of 17 June.
Mr Hernandez allegedly told Lloyd he was upset about an incident at a nightclub days before.
Prosecutor Bill McCauley said surveillance footage from Mr Hernandez's home showed him leaving earlier on the night of the killing with a gun.
Lloyd's body was found later that morning in an industrial park. The victim's family said he and the NFL player had been friends; the victim had been dating the sister of Mr Hernandez's girlfriend.
The Bristol County grand jury also indicted two others in the case.
Ernest Wallace, who prosecutors say was with Mr Hernandez the night Lloyd died, was charged with accessory to murder after the fact.
Mr Hernandez's cousin, Tanya Singleton, was also charged with refusing to testify in front of a grand jury.