German Hawaii shark bite victim Jana Lutteropp dies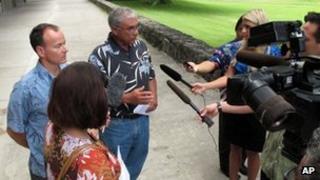 A German holidaymaker whose arm was bitten off by a shark off a Hawaii beach has died from her injuries.
Jana Lutteropp, 20, was the first person killed by a shark in the island US state since 2004.
She died on Wednesday in hospital on the island of Maui, after being on life support since the 14 August attack.
Hawaii authorities say there has been an unusual spike in shark attacks - eight this year, compared to the annual average of about four.
"Jana fought hard to stay alive. However, we are sad to say that she lost her fight today," her mother Jutta Lutteropp and sister Julia Broeske said in a statement released through Maui Memorial Medical Center.
"Jana was a very beautiful, strong, young woman who was always laughing, and we will forever remember her that way."
On Tuesday, the state announced it was launching an $186,000 (£119,300) study of tiger shark movements, while acknowledging the attacks appeared to be random.
"As an island state, we are aware that we are all visitors in the natural environment that surrounds us, and that unfortunate incidents such as this one can occur," said Deborah Ward of the Hawaii Department of Land and Natural Resources.
"We are committed to furthering research efforts that will help guide effective management actions in the interest of safety."
Ms Lutteropp was snorkelling when the unidentified shark bit her right arm off.
She was rescued by a California school teacher.