School gunman in Georgia 'had 500 rounds'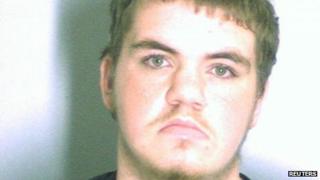 A man arrested at a school in the US state of Georgia on Tuesday was carrying 500 rounds of ammunition and an assault-style weapon, police say.
Michael Brandon Hill, 20, allegedly held two captive in the front office of the Atlanta-area academy, shooting at police outside, officials said.
One of the hostages, school clerk Antoinette Tuff, told local media she had talked him into surrendering.
Mr Hill was arrested on multiple charges, including aggravated assault.
No-one was injured in the event at McNair Discovery Learning Academy.
Twenty-six people including 20 children were killed in Newtown, Connecticut, last December when a gunman opened fire inside a primary school.
'Willing to die'
DeKalb County Police Chief Cedric Alexander said officials were unsure of Mr Hill's motive; he had no clear ties to the school.
Detective Ray Davis says the suspect got the AK-47-style rifle from an acquaintance, but it was unclear if he stole or borrowed it.
Officials believe Mr Hill entered the school by walking behind someone allowed in.
Ms Tuff told broadcaster ABC the suspect had told her "he was sorry for what he was doing. He was willing to die".
She kept Mr Hill talking by sharing her life story, including a marriage ended after 33 years and the difficulty of opening her own business.
"I told him, 'OK, we all have situations in our lives,'" she said. "It was going to be OK. If I could recover, he could, too."
"I knew that if he got out that door he was gonna kill everybody," she told a local broadcaster in a separate interview.
McNair Discovery Learning Academy has about 870 students.
The school is named after Ronald McNair, an astronaut who died when the space shuttle Challenger exploded on 28 January 1986, according to the school's website.
Aerial television footage showed young students running out of the school building on Tuesday, with police and teachers escorting them to safety.