Fort Hood gunman Maj Hasan rests case without witnesses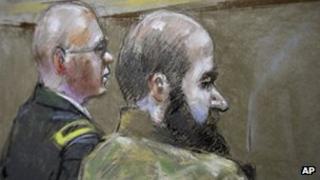 The US soldier who admits killing 13 comrades in a 2009 attack at Fort Hood Army base in Texas has rested his case without calling a single witness.
Maj Nidal Hasan also declined to testify on his own behalf.
US military prosecutors concluded their case against Maj Hasan on Wednesday after bringing forward 90 witnesses, only three of whom he questioned.
His court-appointed lawyers, whom he has barely used, have argued he is intent on getting the death penalty.
The 42-year-old former Army psychiatrist has said he carried out the attack to defend Taliban fighters in Afghanistan, but Judge Col Tara Osborn barred him from presenting that argument in court.
On Wednesday, she asked Maj Hasan how he would like to proceed. He answered: "The defence rests."
The court will be in recess until Thursday morning after prosecutors asked for another day to prepare closing statements.
If Maj Hasan is sentenced to die, the case will automatically go to the military appeals courts, which have overturned most death sentences they have reviewed.
Authorities say Maj Hasan entered a medical building at Fort Hood on 5 November 2009, climbed on to a desk, shouted an Islamic benediction, and opened fire with two handguns.
According to the prosecution, he fired 146 bullets.
Maj Hasan wanted to plead guilty to murder and attempted murder, but military rules forbid guilty pleas in death-penalty cases.