Detroit bankruptcy: Challenges filed against city request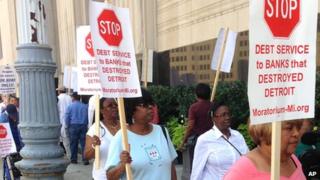 Trade unions in Detroit, as well as pensioners and some residents, have filed objections to the city's application for bankruptcy.
They are asking a US court to throw out the request for protection from creditors, saying it is constitutionally flawed at both the state and federal levels.
The city applied for bankruptcy over $18bn (£12bn) of its debt last month.
Detroit's protection filing was by far the largest in US history.
However, bondholders who have lent money to the city have not objected to the bankruptcy.
Detroit has suffered economic decline and seen its population and tax base shrink in recent decades.
Those objecting to the bankruptcy say it contravenes worker benefit protections outlined in the constitution of the state of Michigan.
A separate argument has also emerged, saying that Chapter 9 of the US bankruptcy code itself (which relates to bankruptcy protection) violates the US constitution.
Under the bankruptcy code, Detroit must prove it is insolvent and has negotiated with creditors in good faith, or there were too many creditors to make negotiations feasible, in order to be certified by a federal judge for a bankruptcy proceeding.