Sammy Yatim death: Toronto officer charged with murder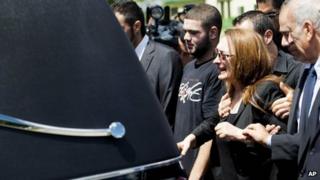 A Toronto police officer has been charged with murder in the fatal shooting of a teenager last month, Ontario's police watchdog has said.
PC James Forcillo shot and killed Sammy Yatim, 18, as he brandished a knife on an empty tram, authorities say.
Video footage of the shooting shows nine shots were fired, six after Yatim fell to the ground.
The shooting sparked protests against police brutality attended by hundreds, including the victim's family.
Yatim's family is reported to have moved to Canada from Syria about five years ago and he is said to have recently graduated from secondary school.
PC Forcillo was earlier suspended with pay during the investigation by the Ontario Special Investigations Unit (SIU), an independent civilian oversight agency.
In a statement, SIU Director Ian Scott said he had "reasonable grounds" to believe the officer committed a crime when he shot Yatim.
PC Forcillo has been officially charged with second-degree murder.
SIU has said the officer's lawyer has arranged for PC Forcillio to surrender on Tuesday morning at an undisclosed location because he has received threats.
He will be detained, but the officer has the option of appealing and making bail.
Yatim was shot in the early morning hours of 27 July, after police responded to a report of a man with a knife in a street car.
Security footage at the intersection shows passengers fleeing the car as it comes to a stop.
Another bystander video shows officers surrounding the emptied bus and shouting "drop the knife" repeatedly, before three shots in quick succession, then six more, are fired.
A stun-gun is then used. Officials said Yatim died of multiple gunshot wounds.
PC Forcillo has served on the Toronto police force for six years, and is the seventh on-duty officer to be charged with manslaughter or murder since 1990, the Toronto Star reports.