LaDean McDaniel dies after Louisiana bank stand-off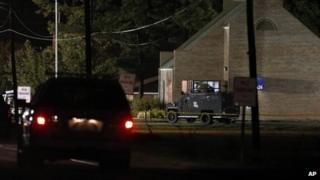 The second hostage shot by a mentally unstable hostage-taker at a rural Louisiana bank on Wednesday has died, hospital officials said.
LaDean McDaniel was shot by Fuaed Abdo Ahmed, 20, in the town of St Joseph.
Among other demands, Ahmed told hostage negotiators he wanted police to remove a device implanted in his head.
Officers stormed the bank and shot Ahmed as he turned the gun on the two hostages. Jay Warbington died on Wednesday. Both were bank employees.
Ms McDaniel died on Thursday morning at Rapides Regional Medical Center in Alexandria, said hospital spokeswoman Charla Ducote.
Letter of demands
The siege began shortly after midday on Tuesday (17:00 GMT), ending just before midnight when police stormed the branch of Tensas State Bank, near the Mississippi border.
One woman hostage was released during the standoff.
Ahmed was armed with a handgun and a rifle and had a bag of items he said he intended to use to torture the hostages, according to police.
Over the course of the 12-hour standoff, Ahmed told police he was angry and believed his ex-girlfriend's family had been responsible for their breakup and for putting a device in his head, according to a letter found in a van parked near the bank.
The mayor of St Joseph, a small town of 1,200 near the Mississippi border, said he has heard from a lot of angry residents.
"The healing process is going to take time,'' Mayor Edward Brown said.