Nevada carvings are oldest petroglyphs in North America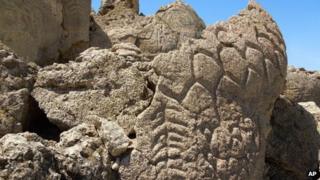 Ancient rock etchings found along a dried-up lake bed in Nevada are the oldest petroglyphs in North America, scientists have said.
The carvings, in the north of the state, are at least 10,000 years old and may be as old as 14,800 years.
The findings were first published in the Journal of Archaeological Science.
Scientists are unsure who carved them, but the petroglyphs were found on the Pyramid Lake Paiute Tribe's reservation land.
"We initially thought people 12,000 or 10,000 years ago were primitive, but their artistic expressions and technological expertise associated with these paints a much different picture," said co-author Eugene Hattori, the curator of anthropology at the Nevada State Museum.
The petroglyphs were found on limestone boulders near the existing lake.
Radiocarbon testing dated the carbonate layer underlying the petroglyphs to about 14,800 years ago.
Other rock data from the lake show the boulders were exposed to air and open to carving as recently as 10,500 years ago.
Regardless of which period the carvings were etched, they would still be the oldest found in North America, said geochemist Larry Benson.
The drawings are abstract, tightly clustered geometric designs. Some are diamond patterns, while others have short parallel lines on top of a longer line.
They are similar in design to etchings believed to be at least 7,600 years old found at a lake in the US state of Oregon.
Researchers have speculated they may represent various meteorological symbols, such as clouds and lightning, or even the Milky Way.