Welcome to my page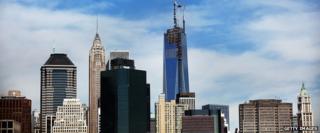 A warm welcome to my new page on the BBC News website, where I'll be sinking my teeth into the "Big Apple", the world's most flavoursome city.
From the outset I should confess that New York was a case of love-at-no-sight, a city that excited and enthralled long before I ever laid eyes on it.
Growing up, it appeared nightly in our living room, as the backdrop for Kojak, Taxi, Fame, Midnight Cowboy or Annie Hall. Before that, it was Sesame Street and Gotham City.
No city could boast taller skyscrapers. Nowhere had street names, like Broadway and Wall Street, which doubled as realms in their own right. No metropolis had such a large and charismatic personality. Long before the invention of the internet, it was possible to be a virtual visitor and thus to embrace that late-Seventies slogan: "I Love New York."
Expectations, then, were Empire State-high when I stepped off the plane at JFK on my first visit in the 1980s. But New York is a city that lives up to its hype. Just take the Manhattan skyline, which I first glimpsed from Queens on the drive from the airport, a view that continues to thrill.
Small wonder that F Scott Fitzgerald once rhapsodised: "The city seen from the Queensboro Bridge is always the city seen for the first time, in its first wild promise of all the mystery and beauty in the world."
Perhaps it is the familiarity of that cityscape which can make strangers feel so quickly at home. "One belongs to New York instantly," the novelist Tom Wolfe has written, "one belongs to it as much in five minutes as in five years."
But the sense of immediate belonging also stems from New York's status as the world's great settler city, a place where millions have arrived to chase their dreams. For them, New York is as much an idea as a city, a place they have already occupied in their minds.
Much has obviously changed since my first visit, when Mayor Ed Koch was battling - successfully as it turned out - to upend the view that New York was ungovernable. With dramatically reduced homicide rates, the city feels much safer for a start.
Staying at a midtown YMCA when I first came here, we were warned not to turn left when we ventured out of the building. After dark, it was simply too lawless. Now, the BBC's New York bureau is located in the middle of that one-time danger zone, and can be reached at any time of the day or night without a single glance over the shoulder.
In those days, the Big Apple was associated with urban decay. Now it is viewed as something of a laboratory of civic reform, especially under the leadership of the billionaire-turned-politician Michael Bloomberg. However, his most notable attempts at reform, in public health (soda bans) and law and order ("stop and frisk" police searches), are also his most controversial.
Both touch on personal freedoms, the extent to which government should be able to encroach into your life, and also race, that age-old American dilemma. "Stop and frisk" may have reduced the murder rate, but it has also disproportionately targeted African-Americans and Latinos, making many feel that parts of their own city are off-limits.
The home to more than eight million people speaking between them over 800 languages, New York has always been the world's greatest experiment in multiculturalism. For the most part, it has been successful. But as the row over the "Stop and Frisk" policing shows, it remains a work in progress.
New York, as well being as the foremost global city, is the pre-eminent American city - its financial, media and cultural capital. Hence, it is as good a place as any to consider the state of the nation, and to look for signs of its relative decline.
From its bridges to the airports, the infrastructure has fallen a long way behind the mega-cities of Asia. No longer can it boast the planet's tallest skyscrapers - it does not even have a building in the global top three. Noticeably, one of the biggest billboards on Times Squares is rented not by one of the US networks, but by China's Xinhua News agency.
Nonetheless, New York also offers proof of America's ingenuity, inventiveness and creativity, along with its ability to rebound and renew. Amble the streets of SoHo, with the most fashion-forward retail in the world. Visit its thriving art galleries and museums or, better still, the High Line, where a disused elevated railroad has been transformed into an elegantly designed and lushly planted "greenway".
Take a stroll down Wall Street, where the New York Stock Exchange has recovered from the 2008 crash. For decades to come, it will surely remain the world's financial hub.
Or visit nearby Ground Zero, where a monument occupies the footprint of the Twin Towers and One World Trade Centre soars to the symbolically important height of 1776 feet. New York changed forever on the morning of 9/11, but at least its skyline has finally been repaired.
A BBC Washington correspondent at the time, I reported from Manhattan in the aftermath of the attacks, and saw for myself how New Yorkers became more fearful and security-conscious. For all the dark talk of a "new normalcy", however, the ribald personality of the city quickly reasserted itself.
I will never forget the scene one Friday evening on a sidewalk packed with rush-hour commuters, where a busking trumpeter was making the most discordant of dins.
For weeks, there had been stories about how, in the aftermath of the attacks, New Yorkers had been unusually polite and caring. But a middle-aged woman decided to revert to type. As the trumpeter launched into another riff, she strode up to him and shouted a string of swear words from the more profane reaches of the New York vernacular. To many, though, it was music to their ears.
"Give me the streets of Manhattan," America's great laureate, Walt Whitman, once opined. Add Queens, the Bronx, Staten Island and Brooklyn into the mix, and you have one of journalism's most fascinating and fast-paced beats, and a far cry from my last posting in Australia.
As the BBC's new New York correspondent, I hope I can keep up.