Louisiana police kill bank hostage-taker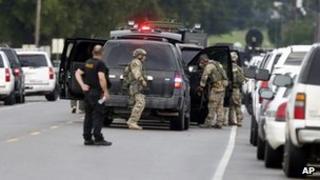 A mentally unstable hostage-taker shot two captives, killing one of them, at a rural Louisiana bank before police gunned him down, say the authorities.
Fuaed Abdo Ahmed, 20, told negotiators in the town of St Joseph a device was implanted in his head, said police.
After a long stand-off, officers stormed the bank as Ahmed turned the gun on his two hostages, and shot him dead, said officials.
The other hostage was in a critical condition.
The slain hostage was identified by Tensas Parish Sheriff Rickey Jones as Jay Warbington. LaDean McDaniel Jones survived the attack.
'Voices in his head'
The siege began shortly after midday on Tuesday (17:00 GMT), ending just before midnight when police stormed the branch of Tensas State Bank, near the Mississippi border.
Two men and a woman were reportedly taken hostage, but the woman was later released.
Ahmed was armed with a handgun and a rifle, and had a bag of items he said he intended to use to torture the hostages, who were both bank employees, according to police.
Louisiana State Police superintendent Col Mike Edmonson said Ahmed had become increasingly unpredictable during negotiations.
He hung up during phone calls with the authorities and at one point demanded they remove a device he believed had been implanted in his head.
He then threatened to kill the hostages, prompting police to enter the building, Col Edmonson said.
He added that police had shot Ahmed after he opened fire on the two captives.
"He was mad at people that he said were mean to him," Col Edmonson told the Associated Press news agency. "He had voices in his head."
Letter of demands
A letter written by Ahmed was found by police in a vehicle parked near the bank.
He wrote that he believed his ex-girlfriend's family had broken the couple up and that they were responsible for putting a device in his head.
He also demanded safe passage to another country.
The bank is located across the street from a petrol station owned by Ahmed's family, police said.
Several residents of the town, which has a population of 1,200, said Ahmed had never showed any signs of trouble.
St Joseph Mayor Edward Brown said he exchanged pleasantries with the man at a petrol station just an hour before the incident.
Mr Brown said Ahmed was "just normal".
"That's why it's so bizarre to me," he said.
Sheriff Jones told the Associated Press that Ahmed had been treated for mental health issues.
But the gunman's brother told the sheriff he had not displayed any signs of violence recently.