Polish soldier Sebastian Kinasiewicz dies on Mount Hood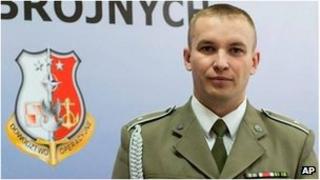 The body of a Polish soldier who said he wanted to plant his nation's flag on Mount Hood in Oregon has been found on the frozen peak, authorities have said.
The body of Sebastian Kinasiewicz, 32, was spotted by helicopter on Tuesday.
Officials believe he fell about 1,000ft (305m) into a rocky basin, where thawing ice could delay the recovery.
Kinasiewicz had been training in the US with a drone aircraft manufacturer, Hood River County officials said.
"Our thoughts are with Sebastian's family at this difficult time," Jill Vacek, a spokeswoman with the drone manufacturer, InSitu, said in a statement released before his body was found.
Kinasiewicz wanted to plant a Polish flag beside another one left on the mountain last year by another party of Polish climbers, a Hood River County sheriff's official told the Oregonian newspaper.
The 11,239ft Mount Hood is the second most-climbed glaciated mountain in the world after Mount Fuji in Japan, according to Portland Mountain Rescue.
An estimated 8,000 people scale the peak every year, mostly between April and July. Summer climbing is more dangerous because warmer temperatures melt the ice and loosen rocks.
About two people die each year on the mountain.
A snowboarder from the US state of Colorado died on the mountain earlier this month when an ice tunnel collapsed. In July, searchers found the body of an Oregon dentist who suffered a fatal fall during a solo climb.
Kinasiewicz's route was unknown, but witnesses reported a lone climber on a route called Cooper Spur on the north side of the mountain on Sunday.