Lac-Megantic train blast: Canada revokes rail firm licence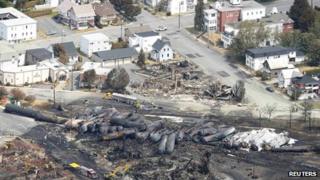 Canada has suspended the operating licence of the rail firm involved in last month's Quebec fuel train disaster, officials say.
The Canadian Transportation Agency (CTA) says the company did not have enough third-party liability insurance.
The CTA's order covers both Montreal, Maine and Atlantic Railway (MMA) and its Canadian subsidiary.
Forty-seven people were killed in Lac-Megantic after a train carrying crude oil derailed and exploded in the town.
The licence suspension becomes effective on 20 August.
The CTA said MMA did not have adequate third-party liability insurance, one of the requirements to operate Canada.
"This was not a decision made lightly, as it affects the economies of communities along the railway, employees of MMA and MMAC, as well as the shippers who depend on rail services," Geoff Hare, CTA chairman and CEO, said in a statement.
"It would not be prudent, given the risks associated with rail operations, to permit MMA and MMAC to continue to operate without adequate insurance coverage."
Bankruptcy
MMA filed for bankruptcy protection in Canada and the United States last week in the wake of the 6 July derailment.
The company said its insurance was not sufficient to cover liabilities of up to C$25m ($24.2m; £15.7m), when the clean-up costs may well exceed C$200m.
The train, with 72 tankers full of crude oil, had been parked uphill from Lac-Megantic and was unattended when it began rolling out of control into the town.
Several tankers exploded, destroying 40 buildings.
The blasts destroyed a large area of Lac-Megantic and forced some 2,000 residents to flee their homes.
The company has blamed the train's operator for failing to set enough hand brakes.
Investigators have said the train's handbrakes are one focus of their inquiries.
Tests are being conducted on the brakes and samples of the oil taken from the scene, as well as other evidence gathered over the four weeks since the disaster.
The process could take months, says the Transportation Safety Board.