H&M pulls headdress from Canada shops amid complaints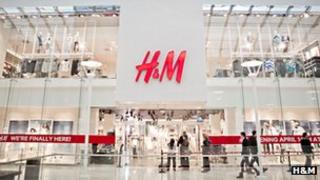 Swedish retail chain H&M has removed faux feather headdresses from five shops in Canada amid complaints they were offensive to aboriginal Canadians.
The head bands decorated with bright flowers were part of a collection aimed at festival goers, a spokeswoman said.
Emily Scarlett said H&M removed the items from the shelves in Canada after receiving three complaints.
One Ojibwa-Mohawk shopper from Winnipeg said the accessory made a mockery of her culture.
"My first instinct was to buy all of them and throw them in the garbage," said Kim Wheeler, who saw the head bands when shopping with her daughter in Vancouver, according to CBC News.
"It's not honouring us. It's not flattering us. It's making a mockery of our culture.
"We just don't think it's cool."
H&M spokeswoman Emily Scarlett said the company withdrew the accessory because it did not want to offend customers.
"Of course we never want to offend anybody or come off as insensitive," she said. "We're always about being there for our customers."
But she said the collection, called H&M Loves Music, also drew inspiration from the '60s.
"Music festivals these days are really about experimenting with fashion and dressing your personality," Ms Scarlett said.
"And they're very heavily based on accessories, really accessorising your look."
It was unclear whether the item would be withdrawn from shops in other countries.