Bangladeshi man imprisoned for plotting Fed bomb attack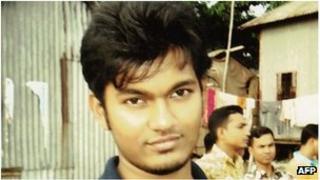 A Bangladeshi man has been sentenced to 30 years in prison for plotting to bomb the US Federal Reserve in New York.
Quazi Mohammad Rezwanul Ahsan Nafis, 22, apologised to a judge, to his parents and to the city of New York before the sentence was handed down.
Officials said he took dummy explosives to the central bank branch and tried to set them off using a mobile phone.
In February, he pleaded guilty to attempting to use a weapon of mass destruction and to supporting al-Qaeda.
Nafis told the court he had rejected radical Islam, in a five-page letter to the federal judge.
Lawyers say Nafis was radicalised at university in Bangladesh and suffered from personal issues.
"I'm ashamed. I'm lost," he said. "I tried to do a terrible thing. I alone am responsible for what I've done. Please forgive me."
Government informant
Nafis reportedly came to the US to study cyber-security at a university in Missouri but was put on probation for poor grades.
He travelled to New York to find work but became suicidal when he discovered a woman in Bangladesh whom he cared about was cheating on him, Nafis said.
Authorities say Nafis' views became more extreme and he started seeking support for a terror attack online, using Facebook and other social media platforms.
One of his associates was a government informant.
Officials said Nafis spoke admiringly of Osama Bin Laden and about wanting to kill US President Barack Obama and attack the New York Stock Exchange.
Eventually, he loaded a van with fake explosives, drove it to the Federal Reserve Bank in New York, and attempted to set off the explosives from a hotel room with a mobile phone he believed was rigged as a detonator, officials said.
Authorities say the public was never in danger because Nafis was closely monitored.