Florida teenager Israel Hernandez-Llach dies after stun gun shot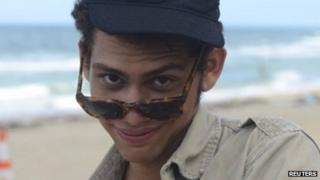 The family of a US teenage graffiti artist who died after police shot him with a stun gun have called for an independent inquiry into his death.
Israel Hernandez-Llach, 18, was caught spray-painting a disused building in Miami Beach, Florida, on Tuesday.
Police say arresting officers used an electroshock weapon on the Colombian immigrant after he tried to flee.
Once in custody, he displayed signs of medical distress and was pronounced dead soon after, police said.
'Act of barbarism'
Hernandez-Llach, who had only just graduated from high school, was shot in the chest with the stun gun after police saw him applying paint to a closed McDonald's restaurant.
A friend of Hernandez-Llach told the Miami Herald he saw police officers exchanging high fives and making jokes after they subdued him with the weapon.
Miami Beach Police Chief Raymond Martinez said his department was investigating the incident. He also sent his condolences to the grieving family.
But the dead teenager's loved ones held a news conference on Thursday to demand the inquiry be led by an external agency.
Israel Hernandez-Bandera says his son's death was "an act of barbarism".
"There is no justification of this kind of action for a second-degree misdemeanour," said Jason Kreiss, a lawyer representing the family.