Fort Hood trial: Lawyers ordered to advise Nidal Hasan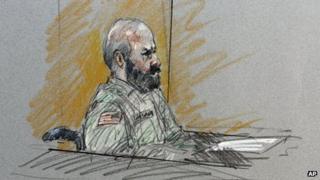 The judge at the trial of the man accused of a mass shooting at Fort Hood, Texas, has ordered standby lawyers to continue assisting him.
The three lawyers had asked to take a lesser role in the defence of Major Nidal Hasan, arguing he was intent on being given the death penalty.
He is representing himself, but has been given court lawyers to help him.
The former US army psychiatrist, 42, admits 13 counts of murder and 32 counts of assault in the 2009 shooting.
He said the reason he carried out the brutal attack was because he believed there was an American war on Islam.
Maj Hasan has tried to plead guilty, but under military law a not-guilty plea is required in death penalty cases.
'Gunpowder, faeces, blood'
The three standby lawyers had argued that Maj Hasan was actively seeking the death penalty - an accusation he denies - and not heeding their legal advice.
But Judge Col Tara Osborn turned their request to be removed down, saying the US Constitution allowed Maj Hasan the right to defend himself and that at issue was "nothing more than their disagreement with Major Hasan's trial strategy".
One of the lawyers, Lt Col Kris Poppe, has previously offered to take over Maj Hasan's defence but that was also turned down.
Later on Thursday witnesses testified about their ordeal during the shootings, describing playing dead to try to avoid injury and their vain attempts to save their friends.
"There were a lot of bodies on the ground. The chairs were overturned, a lot of blood on the floor," said Staff Sgt Michael Davis.
He said he thought the gunfire was a drill until "I saw somebody get hit, I saw a blood spray".
Another witness, Alan Carroll, described urging his friend, Private First Class Aaron Nemelka, to get off his chair and lie on the ground.
But Pfc Nemelka froze, and was fatally shot in the neck.
Maj Hasan was himself paralysed after being shot during the attack.
He has said he attacked to protect Muslims and Taliban leaders in Afghanistan, though Col Osborn barred him from raising that defence in his court martial.
Prosecutors say he deliberately targeted the unarmed soldiers, who were preparing to deploy overseas, and was trying to kill as many troops as he could.