Barthe brothers asphyxiated in Canada 'python deaths'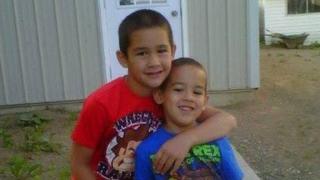 Two young boys killed by a snake in the Canadian province of New Brunswick died of asphyxiation as they slept at a friend's house above a pet shop, a post-mortem examination shows.
Connor and Noah Barthe, aged six and four, were asleep in the living room in Campbellton when the incident occurred.
Police are investigating how shop owner acquired the 4.3m (14ft) African rock python, which has been put down.
On Wednesday, hundreds of people came to a vigil in memory of the boys.
It is thought the serpent escaped from a glass cage into a ventilation duct, then fell from the ceiling into the living room where the boys were sleeping.
'Two beautiful angels'
"We recognise that this has touched the hearts of people across the world and that people want to know how this could have happened," Royal Canadian Mounted Police spokesman Sgt Alain Tremblay said in a statement.
He said necropsy results showed the python, which was put down by a veterinarian, had been in good health.
An hour-long vigil took place on Wednesday evening.
A young boy, a friend of the dead brothers, said at the memorial service that the toys donated in recent days should be given to the boys in heaven.
Ian Comeau, deputy mayor of Campbellton, described the event as a "celebration of two beautiful angels, Noah and Connor".
Funerals will be held for the boys on Saturday.
Meanwhile, investigators were trying to establish where the snake came from.
One former employee of the pet shop, Reptile Ocean, said the shop at one time had a zoo licence, CBC News reported.
But Reptile Ocean's licence eventually lapsed and when the province of New Brunswick banned pythons in 2009 it apparently missed the one in shop Campbellton, the broadcaster reported.