Viewpoint: Zawahiri's bid for al-Qaeda comeback presses Obama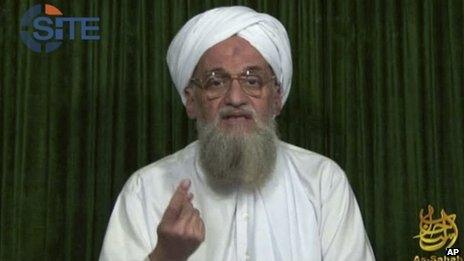 President Barack Obama said in May that al-Qaeda was "on the path to defeat", but now it seems the terrorist threat has grown, with the US temporarily shutting diplomatic outposts across the Middle East. Former US state department spokesman PJ Crowley looks at why.
Nineteen US embassies were closed after hints of a terrorist plot were revealed during an intercepted conversation between al-Qaeda leader Ayman al-Zawahiri and Nasir al-Wuhayshi, the leader of al-Qaeda's franchise in Yemen.
In May, Mr Obama described the "future of terrorism" as one of recurrent plots by a dangerous but less capable al-Qaeda and its affiliates and sympathisers against US interests and diplomatic facilities around the world. That future is happening now across the Middle East.
The extraordinary US security response, which in essence took most of the nation's regional diplomatic capability off line, may be warranted. But it comes at a cost.
This strategy concedes the initiative to al-Qaeda and is not a sustainable course every time there is "chatter" within extremist networks. But given the political furore following last September's attack in Benghazi, the White House and state department have little choice but to respond decisively.
The interception of the conversation is significant. It shows that unlike his predecessor, Bin Laden, Mr Zawahiri is apparently not as concerned about being overheard.
Mr Zawahiri understands the risks of communicating in real time. But he is also aware that in today's world, the smaller a terrorist leader's digital footprint, the lower his global influence.
Osama Bin Laden communicated through intermediaries, and while he retained strategic importance he was largely irrelevant as the dramatic transitions began in the Arab world. A short time later, he was dead. Mr Zawahiri undoubtedly recognises that al-Qaeda has lost ground in recent years.
Assuming there is real capability behind the plot and not just aspiration, Mr Zawahiri can look at the regional landscape - a civil war in Syria, sectarian violence in Iraq, political turmoil in Egypt, a leadership vacuum in Libya, government officials worried about staying in power - and see the potential for a comeback.
However, seeing opportunity and taking advantage of it are two different things. The core al-Qaeda members are under relentless pressure. Officials in Yemen have suggested they have already disrupted a potential maritime plot. It is unclear if this was the primary effort, or one among many options.
Nonetheless, public acknowledgement of the plot by itself raises the costs of the US presence in the Middle East, an al-Qaeda objective.
The Zawahiri phone call shows the new al-Qaeda: the core leadership still in play but no longer at the centre of the action, with the strongest operational capacity found in al-Qaeda's affiliate, al-Qaeda in the Arabian Peninsula (AQAP).
Mr al-Wuhayshi wears two hats, according to the Long War Journal. He is AQAP's leader and also al-Qaeda's general manager.
There is no indication the intelligence behind this plot has been made to sound dramatic for political reasons. The administration's response has received bipartisan support in Washington, with little of the political acrimony that followed the Benghazi attack.
A real-world reminder of the on-going threat may quiet widespread concern regarding global surveillance programmes under the National Security Agency (NSA).
Contentious programmes such as this one played no role in discovering this plot. Yet critics surely will point to the conversation between two known terrorist leaders as precisely the targets that the NSA should be focusing on, rather than on communications between innocent civilians.
For all of the Obama administration's talk about pivots and resets away from the Middle East, the region keeps occupying the bulk of its foreign policy attention. One way or another, the most significant chapter in the Obama foreign policy legacy will be written here.
The plot certainly complicates the president's narrative that the terrorist threat, while still potent, can be managed at a level of vigilance below the threshold of war.
Mr Obama's strategy is to become more selective regarding the use of American military force; help allies like Yemen deal with threats within their own borders (a tall order given Yemen's limited governance capability); and rely on good intelligence and improved defences to disrupt major plots before they mature.
The next few weeks will be a stern test of this approach. No further news will be a significant achievement.
Mr Obama hinted in May that this war against al-Qaeda, like all wars, will end at some point. But Mr Zawahiri's call suggests Mr Obama will not be in a position to declare "mission accomplished" any time soon.
PJ Crowley is a former US assistant secretary of state and now a professor of practice and fellow at the George Washington University's Institute of Public Diplomacy and Global Communication.