Fronczak missing Chicago boy case: FBI reopens probe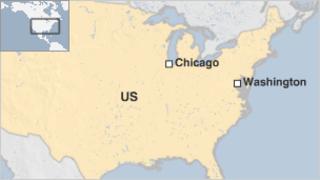 The FBI has reopened an investigation into the disappearance of a newborn boy stolen from a Chicago hospital in 1964.
It comes after DNA tests showed that the child who was returned to the missing boy's parents is not their son.
Paul Fronczak, 49, was raised by Chester and Dora Fronczak after detectives found him abandoned in New Jersey in 1965.
But he questioned his identity as he felt he did not look like them, reports say.
Hundreds of police officers and FBI agents searched for the baby after his abduction from Michael Reese Hospital in April 1964 - when he was just one day old.
A woman dressed as a nurse reportedly told Dora Fronczak that the doctor wanted to examine her son. She handed him over and he was never returned.
Over a year later, a boy deemed to resemble the missing child was found abandoned outside a shop in Newark and given to the Fronczaks.
'Hopeful'
Earlier this year Paul Fronczak asked his parents to do DNA tests, and they revealed the case of the mistaken identity, according to KLAS-TV News.
Joan Hyde, a spokeswoman for the FBI's Chicago office, told the Associated Press that the bureau had decided to reopen the case after reviewing the original case file.
"We decided it merited another look," she said. "The main thing is to look at physical evidence and see if technology and tests that weren't available when the case was originally worked could provide leads."
Paul Fronczak, who is leading his own efforts to find his missing namesake, told Chicago radio he was optimistic about the renewed probe.
"Honestly, I really feel that we're going to solve both these mysteries, and I'm very hopeful, and I really feel that it's time," he said. "It's going to happen."