Fort Hood gunman Nidal Hasan 'wants execution' - lawyer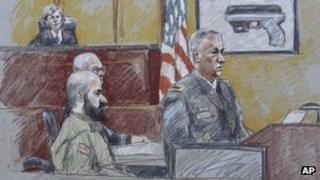 A standby defence lawyer for the ex-US Army psychiatrist on trial for the 2009 killing of 13 fellow US soldiers has told a judge he thinks the defendant wants to be sentenced to death.
Lt Col Kris Poppe offered to step in to represent Maj Nidal Hasan, who is serving as his own lawyer at his trial.
Maj Hasan, 42, admitted he was the killer in court on Tuesday.
He faces 13 counts of murder and 32 counts of assault in the shooting at Fort Hood, Texas.
'I'm the shooter'
On the second day of Maj Hasan's court martial on Wednesday, Lt Col Poppe said: "His goal is to remove impediments or obstacles to the death penalty and is working toward a death penalty."
The defence lawyer added that if Maj Hasan insisted on working towards execution, he requested that his role in the case be minimised.
Maj Hasan, a US-born Muslim, objected to the remarks, arguing the lawyer was twisting the facts.
Judge Col Tara Osborn ordered the court cleared for the rest of the day.
In his opening statement on Tuesday, which lasted just over a minute, Maj Hasan told the 13-member jury the evidence in the trial "will clearly show that I am the shooter."
The prosecutor on Tuesday said Maj Hasan deliberately targeted the unarmed soldiers, who were preparing to deploy overseas, and was trying to kill as many troops as he could.
Authorities say Maj Hasan entered a medical building at Fort Hood on 5 November 2009, climbed on to a desk, shouted an Islamic benediction, and opened fire with two handguns.
According to the prosecution, he fired 146 bullets.
Maj Hasan wanted to plead guilty to murder and attempted murder, but military rules forbid guilty pleas in death-penalty cases.
He has said he attacked to protect Muslims and Taliban leaders in Afghanistan, though Col Osborn barred him from raising that defence in his court martial.