Three shot dead at Ross Township meeting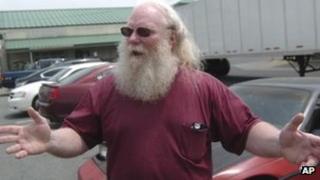 A gunman killed three people at a municipal council meeting on Monday night in the US state of Pennsylvania.
The suspected gunman had been engaged in a long-running dispute with Ross Township officials over rubbish on his property, authorities said.
Police said Rockne Newell was tackled and shot in the leg with his own gun following the attack at the meeting.
Mr Newell, 59, had argued he lived on a meagre pension and could not afford to clean the junk from his property.
Chris Reber, a reporter with the local Pocono Record newspaper who was covering the monthly Ross Township meeting and witnessed the attack, described Mr Newell as a "self-proclaimed junk collector".
Bernie Kozen, a local official, said he had tackled the gunman from behind and wrestled the gun from him with the help of another man.
According to Mr Reber's account, Mr Newell had built a dwelling on his property without the proper permits and had been cited for improperly disposing of sewage on his property. His neighbours had also complained about trash on the lot.
The Pocono Record reported the dispute between the township and Mr Newell had been going for 18 years.
Mr Newell was in police custody after being taken to hospital on Monday night.