'Whitey' Bulger called 'coward' as he refuses to testify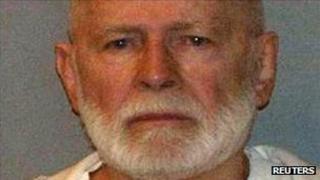 A courtroom heckler has cried out that James "Whitey" Bulger is a coward, after the accused former mob boss opted not to testify in his own defence.
The outburst came after Bulger, 83, called his mob trial "a sham".
Prosecutors have called him a "hands-on killer" who led Boston's Winter Hill gang in the '70s and '80s.
Bulger, who denies the charges, spent 16 years on the run before his 2011 capture in California. He was one of the FBI's most wanted fugitives.
He faces a total of 19 charges including murder, running crime schemes, and corrupting officials.
'Involuntary' choice
The outburst came as federal Judge Denise Casper questioned Bulger about his decision not to testify, as his defence closed its case on Friday.
Ms Casper asked whether Bulger had made the decision "voluntarily and freely".
"I'm making the choice involuntarily because I don't feel - I feel that I've been choked off from having an opportunity to give an adequate defence and explain about my conversation with Jeremiah O'Sullivan," Bulger said in response.
He was referring to Ms Casper's decision earlier in the trial to bar Bulger from invoking an immunity deal he said he had with O'Sullivan, a deceased anti-Mafia prosecutor in Boston.
Bulger has claimed the prosecutor offered him immunity from prosecution in return for protection from other mobsters.
Ms Casper granted that Bulger disagreed with her ruling. He replied, "As far as I'm concerned, I didn't get a fair trial, and this is a sham."
"You're a coward," someone shouted from the court gallery.
After calling for order in the court, Ms Casper confirmed Bulger would not be testifying.
On Monday, lawyers for both sides are scheduled to present closing arguments in the case, and the jury is expected to begin deliberations on Tuesday.
Outside the courthouse later, Bulger's lawyer JW Carney said his client was "at peace" with his decision not to testify.
"He was very calm and very pleased that he made the decision that he did, because he feels it was the right one," Mr Carney said.
Over the course of the trial, Bulger's former associates have testified he strangled women, gunned down those threatening to expose his crime syndicate, and threatened others with pistols and machine guns to force them to hand over cash.
In addition, prosecutors say Bulger regularly met with a corrupt FBI official who turned a blind eye to the Winter Hill gang's activities in return for information on the Italian Mafia.
Bulger denies the violence and denied being an informant or "rat", insisting through his lawyer that he paid for information but offered none of his own.
His defence sought to portray the FBI office that led the investigation into his alleged crimes as corrupt, and has argued the witnesses who testified against him were former criminals.
His defence has also introduced an album of photos of Bulger in an attempt to soften his image.
Separately, a local prosecutor has said the death last month of a potential witness in Bulger's trial was not connected with the proceedings.
Middlesex District Attorney Marian Ryan said on Friday that police had arrested one of Steven Rakes's business partners, William Camuti, on charges that he gave Rakes a coffee laced with cyanide.
A spokeswoman for Ms Ryan, Stephanie Guyotte, said prosecutors believe Mr Camuti "acted alone".