'Gluten-free' defined by US food regulators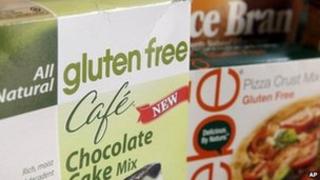 After six years' consideration, US food regulators have created a standard for food products labelled "gluten-free".
The rule requires any product with the label to contain less than 20 parts per million of gluten.
That amount will not make most people with coeliac disease sick, the US Food and Drug Administration (FDA) said.
Foods labelled "no gluten", "free of gluten" and "without gluten" will also have to meet the definition. Firms will have a year to comply.
But the FDA urged food manufacturers to meet the definition sooner.
"This standard 'gluten-free' definition will eliminate uncertainty about how food producers label their products," FDA deputy foods commissioner Michael Taylor said in a statement.
Coeliac disease causes abdominal pain, bloating and diarrhoea when sufferers ingest gluten, which is found in wheat, rye and barley and their derivatives.
People with the condition can suffer weight loss, fatigue, rashes and other long-term medical problems.
An estimated three million people in the US have coeliac disease.
US consumers spent more than $4bn (£2.6bn) on gluten-free foods last year, according to the American Celiac Disease Alliance.
Andrea Levario of the group said the federal guidelines would cut down on trial-and-error shopping for those with the disease.
Ms Levario said that wheat must be labelled on food packages, but that barley and rye are often hidden ingredients in food.
The rule was originally proposed during the Bush administration, but was delayed as the agency evaluated whether the standard was correct, according to Mr Taylor.
"We wanted to do a careful scientific assessment of the data and the range of sensitivities," he said.