New Jersey TGI Friday's fined in 'booze swap scam'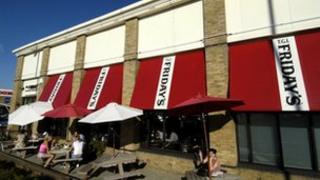 The owner of several New Jersey casual dining chain restaurants has been fined for substituting cheap liquor in customers' orders of premium spirits.
The Briad Group, owner of dozens of TGI Friday's franchises across the US, will pay $500,000 (£330,000) after declining to contest the allegations.
Eight of its branches refilled bottles of premium spirits with cheaper liquor to boost profits, investigators said.
Briad said it was "pleased" a deal had been reached, and it had made changes.
Under an investigation dubbed Operation Swill, agents with the New Jersey Division of Alcoholic Beverage Control and other agencies raided 13 of Briad's TGI Friday's restaurants in May and seized about 250 bottles of spirits.
Eight of those were included in the settlement, authorities said. Other restaurants not owned by Briad were also raided in the operation.
The restaurants were targeted after customer complaints, tests of samples, and information from confidential informants, authorities said.
"Briad's restaurants were scamming customers by serving them a cheap substitute for what they ordered," New Jersey's Acting Attorney General John Hoffman said in a statement.
"This unlawful practice took advantage of consumers who were cheated out of what they thought they were purchasing.
"This fine should send a clear message to every bar and restaurant throughout New Jersey that customers should get what they pay for every time without exception."
Briad has agreed to employ a state-appointed monitor to ensure compliance, and said the restaurants would make "operational adjustments", update employee training policies, and install new inventory software.
"We believe these actions will result in even higher customer satisfaction and a strengthened level of trust," the company, which also operates dozens of Wendy's and other franchise restaurants across the US, said in a statement.
"We look forward to putting this matter behind us."
The restaurants implicated in the settlement were located in West Orange, East Windsor, Old Bridge, Piscataway, Freehold, Marlboro, Hazlet and Linden.