US Senate approves Obama nominees to labour board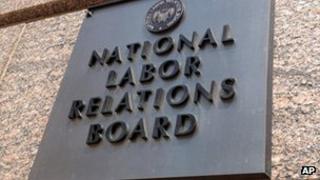 The US Senate has filled all five seats on the National Labor Relations Board, after a delay of many months in backing President Obama's nominations.
Two Republicans and three Democrats were confirmed in votes along party lines in the wake of a bipartisan deal.
This month, lawmakers agreed to drop delay tactics that left nominees in limbo and vote before the summer break.
The Senate has also said it will soon vote on nominees for other diplomatic and law enforcement posts.
The five appointments made on Tuesday were part of a list of seven nominees that Republican Senators agreed they would vote on as part of a deal with Democrats.
Mark Gaston Pearce, the Democratic head of the labour board had his term renewed for another five years, and Democrats Kent Hirozawa and Nancy Schiffer were also approved.
The two Republican nominees appointed were Philip Miscimarra and Harry Johnson III.
"I applaud the Senate for putting in place a full board and look forward to working together on other steps we can take to grow our economy," President Obama said in a statement released after the votes.
Two weeks earlier, the Senate confirmed Richard Cordray as the head of the recently established Consumer Financial Protection Bureau.
Democrats, who have a majority in the Senate, threatened to change the rules of the chamber to reduce the minority party's influence if Republicans kept stalling votes on Obama nominees.