Washington DC landmark vandalism 'linked'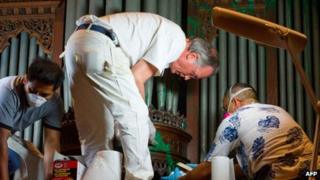 Four incidents of vandalism at landmarks in Washington DC seem to be linked, police said, as a woman appeared in court to face destruction of property charges.
Jiamei Tian is accused of splashing green paint inside two chapels at the National Cathedral on Monday.
Authorities believe Ms Tian, 58, is homeless, and did not suggest a motive.
Her arrest came days after green paint was found on the city's famous Lincoln Memorial and another statue.
Ms Tian appeared in court alongside a Mandarin translator on Tuesday. Prosecutors said she had a Chinese passport, arrived in Washington a few days ago but was travelling on an expired visa.
A judge ordered her held pending a hearing later this week.
At the Washington National Cathedral, paint was found splashed over an organ and on the floor of the Bethlehem Chapel in the basement, officials said.
More paint was discovered in the Children's Chapel in the cathedral's nave. Ms Tian was arrested inside the cathedral moments later, with soda cans of green paint in her bags, police said.
It is not clear if the incident was captured on security footage. The paint was sent to the FBI for testing. The cathedral has said the damage to its chapels, including to a gilded wood altarpiece, will cost thousands of dollars to fix.
Separately, on Friday the sculpture of Abraham Lincoln and parts of the surrounding Lincoln Memorial were found splattered with green paint. A third statue of Martin Luther in the city's Logan Circle neighbourhood was also similarly defaced.
And the US Park Police said on Monday someone had scrawled indecipherable symbols in green on a statue of Joseph Henry, the first secretary of the Smithsonian Institution, a federally funded research and museum organisation, on the National Mall.
The National Mall is a strip of park land near the White House and the US Capitol building. It is home to several major tourist attractions, including monuments and museums.