'I have a dream': Your stories 50 years on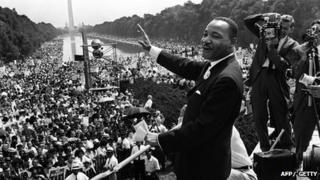 This August it will be 50 years since the American civil rights leader Martin Luther King delivered his 'I have a dream' speech. What effect has that historic moment had on your life?
Dr King grew up in Atlanta under a strict system of racial segregation, which he described in a televised interview for the BBC in 1963.
On 28 August 1963 more than 200,000 Americans joined a march on Washington DC demanding equal justice for all citizens under the law.
On that day, the interracial crowd heard Martin Luther King deliver his famous speech, predicting a time when freedom and equality for all would become a reality in the US.
In 1964 Congress passed the Civil Rights Act outlawing all forms of discrimination against racial, ethnic, national and religious minorities, and outlawing discrimination against women in the US.
Here, the British Poet Benjamin Zephaniah explains what the speech means to him, including why he thinks it was made, how the audience reacted, plus an analysis of its delivery.
What impact has 'I had a dream' had on your life? Do you know anyone who took part in the march? Have you been involved in any civil rights protests? Do you have any links to Martin Luther King?