Sammy Yatim: Toronto 'tram death officer' suspended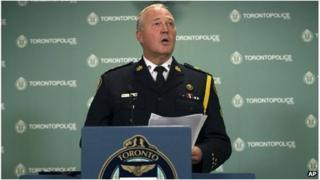 The police officer who shot dead a man armed with a knife on an empty Toronto tram has been suspended amid protests over the killing, police said.
Video footage of the encounter early on Saturday shows officers fired nine shots at Sammy Yatim, 18, after ordering him to drop his knife.
In the video, officers also used a stun gun after the shots were fired.
The clip has been widely viewed on YouTube. Hundreds of people turned out for a vigil in Canada's largest city.
An independent police oversight body said Yatim died from multiple gunshot wounds.
On Monday, the Toronto police department pledged to investigate what led to the shooting.
Toronto Police Chief Bill Blair said he had watched the video and shared the public's concerns.
"I recognise there is a need for answers," he said.
In addition to the video posted online, local media report the killing was captured on camera from at least two other angles.
A march protesting against police brutality attracted hundreds of people on Monday afternoon in Toronto.
Yatim's mother and sister attended the march, which passed the spot where he was killed.
The victim's family sat and sobbed in the middle of the street, the Toronto Star reported.
Yatim's family is reported to have moved to Canada from Syria about five years ago, and he is said to have recently graduated from secondary school.