NZ denies helping US spy on reporter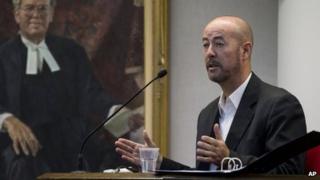 New Zealand has denied a report that its military conspired with US spy agencies to monitor a freelance journalist in Afghanistan.
The Sunday Star Times newspaper said that phone data of Jon Stephenson, a New Zealander employed by the US news group McClatchy, was snooped on.
But a top New Zealand military official says there is no evidence of the claim.
It was the first suggestion that recently exposed US spying programmes had been used on specific journalists.
"We have identified no information at this time that supports [the story's] claims," Maj Gen Tim Keating said in a statement.
Defamation lawsuit
He said military officers responsible for operations in Afghanistan had assured him there had been no unlawful monitoring of Stephenson by New Zealand.
"This includes asking foreign organisations to do this on our behalf," he said.
The scope of American collection of vast amounts of phone records and internet data was exposed last month by Edward Snowden, who worked as a contractor for the US National Security Agency (NSA).
The NSA sometimes shares intelligence information with New Zealand agencies under a long-standing arrangement, known as Five Eyes, between the two countries, the UK, Australia and Canada.
On Monday, Prime Minister John Key told the New Zealand Herald it was possible to show up accidentally in the NSA's phone data "if you rang a member of the Taliban that the Americans were monitoring because they believed them to be a threat".
"I'm not saying that's happened. I'm just saying that we don't go and monitor journalists," he added.
The reporter on the Star Times article says he stands by the story.
"Direct denials are always unsettling, but I would not have published unless I had a really good source," Nicky Hager told the Associated Press without elaborating on who gave him the information.
Mr Hager said the monitoring occurred because the military had been unhappy with Mr Stephenson's reporting on its treatment of Afghan prisoners.
Mr Stephenson has sued the New Zealand military for defamation, seeking NZ$500,000 ($405,000; £262,000) arguing the defence force implied he fabricated an interview with a unit commander.
While the jury was unable to reach a verdict, the military acknowledged the interview may have taken place.