Bradley Manning judge begins final deliberations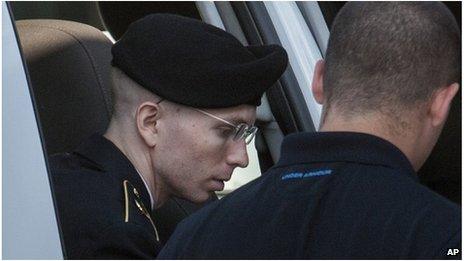 A military judge has begun deliberating over the charges against a soldier who leaked reams of secret US government documents to Wikileaks.
Judge Col Denise Lind alone will rule on the charges against 25-year-old Pte Bradley Manning.
Pte Manning, of Crescent, Oklahoma, aimed to inform the US public, making him a whistleblower not a traitor, his lawyer said in a closing argument.
The leak is considered the largest-ever of secret US government documents.
On Thursday, a prosecutor called him a "traitor" who betrayed his country.
Pte Manning has already pleaded guilty to 10 lesser charges out of 22 total, and could face up to life in prison if convicted of "aiding the enemy", the most serious charge against him.
Judge Lind will give a 24-hour warning before delivering her verdict; the decision could come as soon as this weekend.
In his arguments at the conclusion of the seven-week court martial, Pte Manning's defence lawyer David Coombs disputed the prosecution's claim that the intelligence analyst hoped to win notoriety as a hacker and intelligence leaker.
"He's not seeking attention. He's saying he's willing to accept the price" for what he has done, Mr Coombs said.
"That is a whistleblower, period. That is somebody who wants to inform the American public."
The defence lawyer played a video Pte Manning leaked to the Wikileaks anti-secrecy website of an Apache helicopter attack in the Iraqi capital, Baghdad, in 2007. A dozen people died in the attack, including two Reuters employees.
"You have to look at that from the point of view of a guy who cared about human life," said Mr Coombs.
He also displayed a photo of Pte Manning wearing what appeared to be make-up and a bra.
"What you see there is a young man who is cross-dressing," Mr Coombs said. "Just maybe that person is smiling because he can be himself at that moment."
The prosecution had said the photo showed a man who thought he had finally become famous.
On Thursday, prosecutor Maj Ashden Fein said Pte Manning's mission was to find and disclose classified material to "anarchists" at Wikileaks, while seeking notoriety as a leaker.
He also said Pte Manning, who was trained as an intelligence analyst, must have known that al-Qaeda operatives would see the leaked material once it was posted online.
And he said some of the documents leaked by Pte Manning were discovered among Osama Bin Laden's belongings.
"WikiLeaks was merely the platform which Pte Manning used to ensure all the information was available for the world, including enemies of the United States," Maj Fein said.
"He was a traitor, a traitor who understood the value of compromised information in the hands of the enemy and took deliberate steps to ensure that they, along with the world, received it."
Pte Manning has not denied his role in the leak, and in February said at a pre-trial hearing he had disclosed the documents to spark a public debate about US military and foreign policy.
Among the files leaked were an estimated 250,000 diplomatic cables, and thousands of battlefield reports from Afghanistan and Iraq.
Military prosecutors maintain the leaks damaged national security and endangered American lives and those of foreign intelligence and diplomatic sources.
Pte Manning was arrested in May 2010 while serving in Iraq.
Related Internet Links
The BBC is not responsible for the content of external sites.