Pittsburgh scientist charged over wife's cyanide death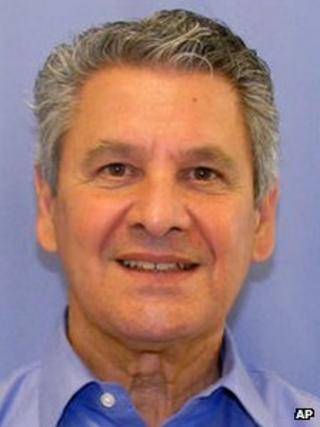 A US neuroscientist has been charged with killing his wife by lacing with cyanide an energy drink he said would help her get pregnant.
Police say Dr Robert Ferrante, 64, gave the supplement to Dr Autumn Klein on 17 April. She died three days later.
Klein, 41, was a neurologist at the University of Pittsburgh, where her husband also worked. He had suspected her of infidelity, say authorities.
He was arrested in West Virginia after a nationwide law enforcement alert.
His lawyer, William Difenderfer, told a local CBS broadcaster: "He is adamant that he is innocent. I believe him and I'm sure it'll be a hell of a trial."
Smiling emoticon
When Klein died, her blood was so acidic that doctors tested it for cyanide as a precaution, and the results came back positive.
She was cremated at her husband's request, according to a police complaint released on Thursday.
Two days before Klein fell ill, Dr Ferrante used a university credit card to buy more than 8oz (220g) of cyanide. Police said it was the only substance he purchased not related to his work.
Hours before Klein fell sick, the couple had texted back and forth about the supplement's ability to help them conceive a second child.
"Will it stimulate egg production too?" she asked.
Dr Ferrante responded with a smiling emoticon, say the authorities.
According to investigators, Dr Ferrante suspected Klein was having an affair, and had confronted her three times about it.
Klein told a male friend at a conference in San Francisco two months before her death that she planned to leave her husband, states the complaint.
The couple wed in 2001 after meeting while she was a student and he worked at a veteran's hospital in Massachusetts.