US justice department in voting rights challenge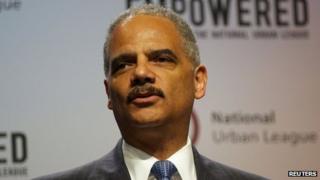 The US justice department will ask a court to compel Texas to seek federal approval for any change to its voting laws, the attorney general has said.
Eric Holder said the government needed to protect minority voters.
The landmark 1965 Voting Rights Act said Washington had to rubber-stamp any changes to election laws in 16 states with a history of discrimination.
But in June the Supreme Court said part of that law was out of date, leaving the provision in limbo.
If the federal court in San Antonio, Texas, agrees with the justice department, then Texas election laws will be subject to "pre-clearance" - or prior approval from Washington - for another 10 years.
'Progress unravelling'
The justice department's action on Thursday is not a direct intervention. It has filed a so-called statement of interest in support of other private parties that have filed a lawsuit.
Mr Holder cited an effort to redraw the lines of congressional districts in Texas in a way that some considered to be discriminatory.
The state had a history of "pervasive voting-related discrimination against racial minorities", he said on Thursday during remarks to the National Urban League in Philadelphia.
The court in San Antonio has been considering the new congressional map of Texas since 2011 when it rejected a proposal put forward by a Republican super-majority in the state legislature.
Last year, a federal court in Washington DC also ruled that a law requiring people to present identification before voting would disenfranchise minorities.
"We cannot allow the slow unravelling of the progress that so many, throughout history, have sacrificed so much to achieve," Mr Holder said.
The Supreme Court said in its recent ruling that the formula used to calculate which jurisdictions should be subject to the "pre-clearance" rule was out of date.
While it did not strike down the provision, it said Congress must create a new method to evaluate which states and counties needed monitoring.
"Even as Congress considers updates to the Voting Rights Act in light of the court's ruling, we plan, in the meantime, to fully utilise the law's remaining sections to ensure that the voting rights of all American citizens are protected," Mr Holder said.
He called the Voting Rights Act "the cornerstone of modern civil rights law", and said the government would take further steps to challenge the ruling.
The law applies to changes of all types, from changing the location of a polling station to early voting rules and requiring voters to present photo identification before casting a ballot.