Ohio man sues casino after $35,000 in winnings stolen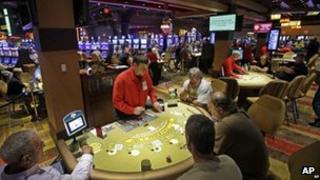 A US man has sued a casino in Columbus, Ohio, after he was robbed at gunpoint of thousands of dollars of blackjack winnings at his home later.
David Hayes, 29, says in a lawsuit two armed men entered his bedroom and demanded $35,800 (£23,400).
He says the Hollywood Casino Columbus should have paid him in a cheque and failed to keep his address and other personal information confidential.
The casino argues Mr Hayes lost the money because of "his own negligence".
Bills in envelope
The lawsuit in Franklin County, Ohio, court was first reported on Thursday by the Columbus Dispatch.
According to the lawsuit, after winning at the blackjack tables during a gambling session in October, Mr Hayes took his chips to the cashier at the Hollywood Casino Columbus and asked to be given a cheque. The clerk did not respond, so Mr Hayes offered to accept cash.
The plaintiff says the clerk wrote down information from his driving licence on a piece of paper and held it up for him to confirm - in a manner that would have allowed others to read the details.
She gave him his winnings in $100 bills, then placed them in a manila envelope and stapled it shut, Mr Hayes said.
The security guard who escorted Mr Hayes to his car asked if he was concerned about having a lot of cash, to which Mr Hayes replied that his brother kept a gun, Mr Hayes said.
Two arrested
The robbers knew Mr Hayes's brother kept a weapon, Mr Hayes said.
Among other allegations, Mr Hayes said the casino, owned by Central Ohio Gaming Ventures, "breached its duty to maintain the confidentiality of customer financial transactions conducted at the gaming cage".
He also alleges the security guard disclosed to someone that Mr Hayes's brother had a gun.
In its response filed this month, the casino replied that the break-in and robbery "were caused by unforeseeable misconduct by third parties" over whom the casino had no control, among other arguments.
Ronald Jones, 26, and Ryan Bundy, 20 have been arrested and charged with aggravated burglary and aggravated robbery in the case, and are due to appear for trial on Monday, the Columbus Dispatch reported.
Police are searching for a third suspect.