Second East Cleveland murder victim identified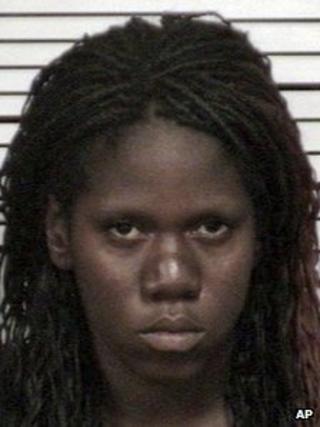 The second of three women found dead wrapped in rubbish bags last week in an Ohio suburb has been identified.
Shetisha Sheeley, 28, had been missing since September. Her mother told local media that Sheeley had a 12-year-old daughter who was living with family.
Michael Madison, a convicted sex offender, has been charged with the murder of all three women.
The bodies were found in separate but nearby locations in East Cleveland, Ohio, on Friday and Saturday.
The first victim to be named was Angela Deskins, 38.
Both Deskins and Sheeley, who was found in a field, were ultimately identified by their fingerprints, the Cuyahoga County medical examiner said on Tuesday.
'Pray for me'
All three corpses were severely decomposed, including the third victim's remains, which are still unidentified.
Sheeley had been arrested in June 2012 for firing a weapon from a vehicle, but the case was dismissed three months later because there were no witnesses.
Her mother, Kim Sheeley, said she had told police her daughter was missing in September.
She also told a local broadcaster she feared the worst when her daughter did not appear for her own brother's funeral after he was shot and killed in December 2012.
"I don't know why this person did what they did to my daughter," Kim Sheeley said. "But I ask everyone to pray for me. This has been really, really hard on me."
Shetisha Sheeley's court-appointed lawyer, Michael Nelson, told the Associated Press the deceased woman had been unemployed and vulnerable.
"The streets are just mean," Mr Nelson said. "She was a vulnerable person, and with that it probably multiplied her risk."
During a press conference on Tuesday, East Cleveland Mayor Gary Norton said he had known Angela Deskins' family for 15 years, and that they had been very supportive of her.
Deskins was reported missing last month.
Madison, who is being held in Cuyahoga County jail on $6m (£3.9m) bail, was charged with three counts of aggravated murder and three counts of kidnapping on Monday. He pleaded guilty to charges of attempted rape in 2002.
On Friday, Madison was arrested at his mother's home hours after the first body was found nearby in a garage at his apartment block.
Officials said the three dead bodies were found about 300-600ft (100-200m) apart.
The mayor also said the suspect indicated he had been influenced by a previous multiple murder case in neighbouring Cleveland.
Anthony Sowell, 52, was sentenced to death in 2011 after being convicted of killing 11 women, the remains of whom were found around his home.
Madison could face the death penalty or life in prison if convicted of the charges of aggravated murder.