Law and Order actor Dennis Farina dies at 69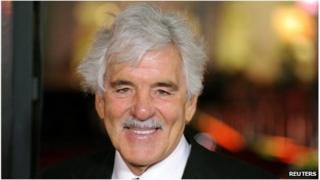 Dennis Farina, the "tough guy" US actor who was a Chicago policeman for years before entering show business, has died at the age of 69.
He died in Scottsdale, Arizona, after developing a blood clot in his lung, publicist Lori De Waal said.
Farina was best known for his role as Det Joe Fontana on New York-based police show Law and Order.
He also appeared as a mobster in action comedies Midnight Run (1988) and Get Shorty (1995).
Actress Zooey Deschanel, with whom Farina worked on the US sitcom New Girl, said she had been "lucky to have witnessed his charm and brilliance".
Actor John Cusack was among others to pay homage, remembering his fellow Illinoisan as a "great guy and a real Chicago character".
Former Cheers star Kirstie Alley said he had been "an awesome actor and person", while Denis Leary called him a "good cop, [a] great actor [and an] even better human being".
The current superintendent of the Chicago Police Force also paid tribute, saying he would "always be first and foremost a guy from the Near North Side who helped make this city safer".
Born in Chicago on 29 February 1944, Dennis Farina served in the US Army before spending 18 years as a police detective.
He became an actor when he was almost 40, earning his first credited role as a minor character in Michael Mann's 1981 film Thief.
In a 2004 interview Farina recalled his first day of work on set, saying he had been "intrigued by the whole thing".
"I liked it," he told the Associated Press. "And everybody was extremely nice to me.
"If the people were rude and didn't treat me right, things could have gone the other way."
Farina and Mann went on to work on 1980s TV series Crime Story and the 1986 thriller Manhunter, the first film to feature Thomas Harris's Hannibal Lecter character.
Farina, a mainstay of the Chicago theatre scene, also appeared in Saving Private Ryan, Snatch and Out of Sight.
The actor played Joe Fontana during the 2004-06 seasons of Law and Order and recently starred alongside Dustin Hoffman in short-lived HBO drama Luck.
He is survived by his partner of 35 years, Marianne Cahill, three sons and six grandchildren.