Welsh footballer and US soccer chief Phil Woosnam dies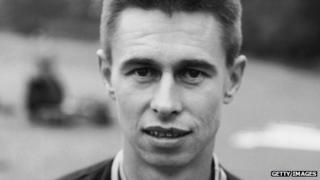 Phil Woosnam, the Welsh footballer who became commissioner of the North American Soccer League (NASL), has died at the age of 80.
He died near Atlanta, Georgia, from complications related to prostate cancer and Alzheimer's disease.
Woosnam was born in mid-Wales and had a successful football career in Britain before heading across the Atlantic to the US in 1966.
He has been described as the father of US professional soccer.
After managing and playing for the Atlanta Chiefs, he coached the national team before being made commissioner of the NASL, a role he held from 1969-1983.
"Phil Woosnam was a true pioneer of soccer in the United States in every sense of the word and his contribution to the sport in this country is immeasurable," said NASL Commissioner Bill Peterson.
"He took soccer into unchartered waters and through his passion, carried the game on his shoulders for many years. Our thoughts are with his family."
Before moving to the US, Woosnam played for English clubs including Leyton Orient, West Ham and Aston Villa and won 17 international caps for Wales.
He is the cousin of Welsh golfer Ian Woosnam.