Hedge fund founder Steven Cohen charged over 'insider trading'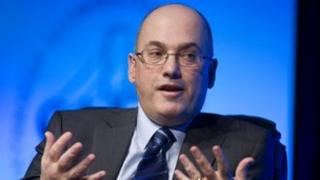 A billionaire hedge fund manager has been charged with failing to stop insider trading, the US Securities and Exchange Commission (SEC) says.
SAC Capital Advisors founder Steven Cohen, 57, faces civil charges over what the US government has called one of the biggest such fraud cases ever.
Mr Cohen did not properly supervise two traders who engaged in illegal insider trading, the SEC alleges.
But the fund said the charges had "no merit" and pledged to fight the case.
As a result of the illegal information, the traders made about $275m (£180m) for the fund, the government has alleged.
It added that Mr Cohen was aware of the information but rewarded one of his employees with a $9m bonus, instead of cracking down.
The SEC said: "Cohen received highly suspicious information that should have caused any reasonable hedge fund manager in Cohen's position to take prompt action to determine whether employees under his supervision were engaged in unlawful conduct and to prevent violations of the federal securities laws."
The government agency is seeking to have Mr Cohen banned from managing funds in future, and seeks an unspecified amount of money.
The charges will not proceed to trial, but were filed as an administrative proceeding.
A spokesman for the defendant said: "Steve Cohen acted appropriately at all times."
Traders Mathew Martoma and Michael Steinberg have denied criminal insider trading charges and face trial in November.
Friday's charges are part of a long-running probe of SAC Capital Advisors, a fund worth about $15bn, which has seen nine current or former employees charged or implicated.