Four homeless men found in Texas 'dungeon'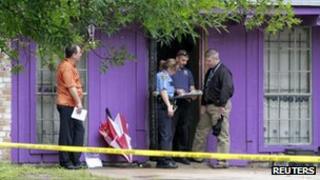 Four homeless men have been found in squalor in a house in Houston, Texas, where they were held for up to 10 years, police said.
The men, three locked in a garage and a fourth in the home, were malnourished and "almost invalids", said police.
They told officers they had been lured to the house with promises of beer and cigarettes, then were forced to hand over monthly benefits cheques.
One person was reportedly taken into custody, according to the AP.
Police are investigating whether four women found at the house were also being held captive.
Those four - a grandmother, daughter, granddaughter and another woman - are described as mentally challenged.
'Deplorable'
Three of the rescued men, who range in age from mid-50s to 80 years, have been taken to hospital.
Police were alerted when a concerned neighbour reported the presence of the men at the house.
Steven Murdock, a police sergeant, described the living conditions as "deplorable", saying the space was like a "dungeon".
He added that at least one of the men was a military veteran.
Neighbours in the working-class, residential area of north Houston expressed shock.
Police were seen moving in and out of the house as bystanders watched.
The property was sealed off with police tape.