James 'Whitey' Bulger case: Would-be Boston witness Stephen Rakes dies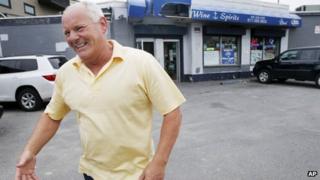 A Boston man has died a day after learning he would not have his time in court against alleged mobster James "Whitey" Bulger.
Stephen Rakes, 59, was said to have been eager to take the stand against the man he accused of forcing him to sell his liquor store in 1984.
Rakes was found dead in a Boston suburb on Wednesday with no obvious signs of trauma, officials said.
Bulger, 83, denies 19 counts of murder and other charges.
State prosecutors say the medical examiner will conduct a post-mortem examination to determine Rakes' cause of death.
He alleged he had been forced at gunpoint in front of his two young daughters to sell his business to Bulger's Winter Hill gang, so they could use it to launder money.
'Devastated'
But another prosecution witness, a former Bulger henchman, had testified that Rakes' account of the liquor store sale was not accurate.
The deceased had attended every day of the trial, which has so far heard six weeks of testimony.
But on Tuesday, prosecutors gave the judge a list of their remaining trial witnesses, which did not include Rakes.
He had been "devastated" by that decision, Steven Davis, a friend of Rakes and brother of an alleged Bulger victim, told the Boston Globe.
Rakes had been eager to tell his side of the story, Tommy Donahue, son of another alleged Bulger victim, told the Associated Press news agency.
The deceased said in April he had begun hyperventilating as he laid eyes on Bulger at the beginning of the case.
More than 100 witnesses are slated to testify in the trial in a federal court in South Boston.
Among those is Stephen "The Rifleman" Flemmi, who is serving a life term for his role in many of the murders with which Bulger is charged.
The court has heard that Bulger was a violent and cold-blooded criminal.
He denies all the charges, though his lawyer has conceded his client was a drug dealer, extortionist and loan shark.
On Wednesday, a former drug dealer testified that Bulger had forced him to play Russian roulette in 1983 as a way to make him hand over $1m (£660,000).
Bulger, who spent 16 years on the run before his 2011 capture in Santa Monica, California, was one of the FBI's most wanted fugitives.
He was an inspiration for the gangster played by Jack Nicholson in Oscar-winning 2006 film The Departed.