Ohio prosecutor seeks 977 counts against Ariel Castro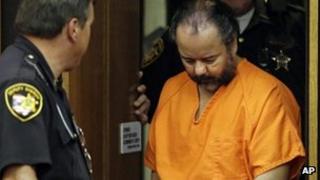 An Ohio man accused of raping and holding three women captive in his home for about a decade has been charged with hundreds of additional crimes.
Ariel Castro, 53, now faces 977 counts of kidnapping, rape, aggravated murder and other counts covering the entire time the women were allegedly held.
He has pleaded not guilty to the existing 329 counts against him.
Mr Castro was arrested in May after one of the women allegedly held in his Cleveland house escaped.
'Gruesome case'
The new indictment brings the total charges against him to two counts of aggravated murder, 512 counts of kidnapping, 446 counts of rape, seven counts of gross sexual imposition, six counts of felonious assault, three counts of child endangerment and a count of possessing criminal tools.
The murder charges relate to Mr Castro's alleged starving and beating of a pregnant captive until she miscarried.
"Today's indictment moves us closer to resolution of this gruesome case," Cuyahoga County Prosecutor Tim McGinty said in a statement.
"Our investigation continues, as does our preparation for trial."
Mr McGinty has said his office is still determining whether they will seek the death penalty for some of the charges.
The three women, Michelle Knight, 32, Amanda Berry, 27, and Gina DeJesus, 23, went missing in Cleveland between 2002-04.
A lawyer for one of them said she hoped for a quick resolution to the case.
"The more sordid details of this horror that get disclosed in this process, the more painful it is for them," Ms Knight's attorney, Kathy Joseph, said two weeks ago.