US Homeland Security Secretary Janet Napolitano quits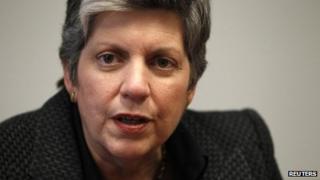 US Homeland Security Secretary Janet Napolitano has said she will step down to become the next president of the University of California system.
She has presided over changes to immigration enforcement and new focus on disaster response during her tenure.
In a statement, President Barack Obama praised Ms Napolitano, saying: "The American people are safer and more secure thanks to Janet's leadership".
Her resignation comes as Congress is debating broad immigration reform.
The former Arizona governor had been an outspoken advocate for changing the US immigration laws, and replacing her could complicate an already tough path in the Republican-controlled House, analysts say.
Ms Napolitano is only the third person to hold the top job at the Department of Homeland Security (DHS), created in response to the 9/11 attacks. It includes 22 departments.
The department's mandate is extremely broad, from immigration and deportations to airport screenings to disaster management.
She will leave the department in early September.
It is unclear who Mr Obama will nominate to replace her, but some names suggested for the post so far include former Senator Joe Lieberman, Senator Susan Collins and former Coast Guard Commandant Admiral Thad Allen.
New York Senator Chuck Schumer has recommended New York Police Department Commissioner Ray Kelly for the job.
Mr Obama thanked the secretary for working "around the clock" during disasters over her tenure, including the 2011 Joplin tornado in Missouri and Hurricane Sandy in 2012.
Ms Napolitano has been praised for restoring the Federal Emergency Management Agency to good standing after its much-criticised response to Hurricane Katrina in 2005.
But she faced criticism from Republicans who said she was not strong enough on deportations and on US border security.
Under her watch, the department focused its resources on deportations for those with criminal records.
Other critics said she failed to solve problems within the many departments of DHS, which was voted the least satisfying government agency in which to work.
Deputy Secretary Rand Beers is expected to lead the department in the interim.