Beauty queen owes Trump's Miss USA $5m for defamation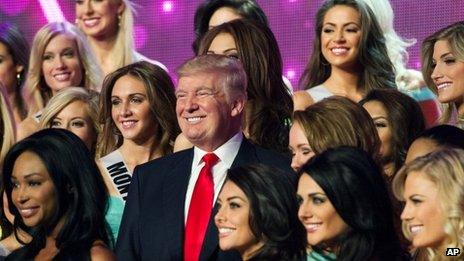 A beauty queen must pay Donald Trump's Miss USA organisation $5m (£3.3m) for defamation, a federal judge has ruled.
Sheena Monnin resigned as Miss Pennsylvania in 2012 after publicly claiming the contest was rigged.
An arbitrator ruled that her allegations cost the pageant $5m in a lost sponsorship deal.
In a Facebook posting, Ms Monnin stood by her original claims. She also said her legal fees alone topped $50,000 and solicited financial donations.
The legal battle began after Ms Monnin, while competing in Miss USA 2012 last June, claimed that another contestant had learned the names of the Miss USA competitors who finished in the top five, before the show was even broadcast.
That contestant later issued a statement saying that she was only joking.
Trump's Miss Universe Organization sued Ms Monnin for defamation and an arbitrator ruled against her in December.
She appealed that judgment arguing that the arbitrator had overstepped his authority.
New York district court Judge J Paul Oetken this week rejected her appeal.
Pageant organisers claimed Ms Monnin had resigned not over the results, but because she disagreed with a decision to allow transgender contestants.
Accounting firm Ernst & Young, which tabulates the judges' scores, insisted during last year's controversy that the pageant was not rigged.
Related Internet Links
The BBC is not responsible for the content of external sites.