San Francisco Bart rail strike ends as contract extended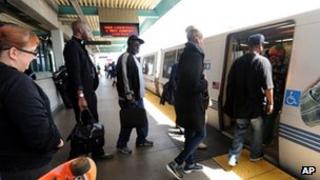 San Francisco Bay's transit rail service has resumed after two labour unions called off a strike.
The four-day walkout came to an end after both sides in the Bay Area Rapid Transit (Bart) dispute agreed to a one-month extension of the current contract while bargaining continues.
But management and the unions remain far apart on key issues.
The strike, the longest since a six-day stoppage in 1997, affected 400,000 passengers who use Bart daily.
Talks between the two sides had resumed as early as Tuesday, but key sticking points include salaries, as well as employee costs for pensions and healthcare.
The unions, representing nearly 2,400 workers, are seeking a 5% annual raise over the next three years, dismissing a management counter-offer of 8% over four years as "surface bargaining" and noting a wage freeze they took four years ago.
Bart has said workers from the two unions earn on average $71,000 (£47,500) in base salary and $11,000 in overtime annually.
'Optimistic'
Bart general manager Grace Crunican said the discussions would continue during the contract extension period.
"Unfortunately, the issues that brought us to this point remain unresolved,'' she said. "We still have a wide gap of disagreements to bridge over the next 30 days."
The president of one of the striking unions, the Amalgamated Transit Union, struck a defiant tone.
"We're not going to let them hijack us and the riding public," Antonette Bryant said, as she apologised to commuters for the disruption.
Passengers were able to travel on Bart trains from about 15:00 on Friday (22:00 GMT), said station agent Darrow Richardson.
"It's been hard on everybody, everybody on both sides of the fence and on the riding public," he told the Associated Press news agency.
"I'm optimistic that things will get ironed out."
While the effects of the strike were somewhat lessened by the Independence Day holiday on 4 July, commuters in the Bay area faced lengthy queues at toll bridges earlier in the week and increased strain on other transit options.
The Bay Area Council Economic Institute estimated the strike had cost the San Francisco Bay Area $73 million (£43 million) a day in lost worker productivity.
The transit rail serves San Francisco, Oakland, Berkeley and other areas in the region.