US 'prayer cure' couple lose appeal over child's death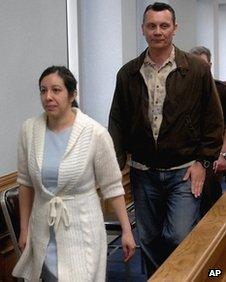 The reckless homicide conviction of a couple whose daughter died after they tried to treat her with prayer, denying her medical help, has been upheld.
By 6-1, Wisconsin's Supreme Court ruled that a law protecting Dale and Leilani Neumann from child abuse charges did not cover their daughter's death.
Kara Neumann, 11, died on Easter Sunday March 2008 from undiagnosed diabetes.
The couple were convicted in separate trials in 2009 and sentenced to six months in prison.
They have not served any jail time while the case went through the appeals process.
The Neumanns' legal team argued that Wisconsin abuse laws granted criminal immunity to parents who put their faith in prayer to heal their child's ill health.
But government lawyers argued that such protection ends when parents realise a child is at serious risk of death.
The couple identify themselves as Pentecostal Christians and believe visiting a doctor is akin to worshipping an idol, the Supreme Court opinion said.
The family first began to pray after Kara became very tired and pale, and her legs turned blue.
They continued to do so as their daughter's conditioned worsened, disregarding suggestions from Leilani Neumann's mother to bring Kara to a doctor.
Leilani Neumann rejected a suggestion that she give Kara a dehydration supplement, saying such a treatment would be taking away the glory from God.
Kara slipped into a coma and died.
Emergency room officials testified the girl's condition was easily treatable and her chances of survival had been high "well into the day of her death".
Dale Neumann testified during his trial that he never thought his daughter's illness would prove fatal.
He said he believed that even if she did die, Jesus would resurrect her, much like the biblical story of Lazarus.
More than a dozen states have some form of legal protection for parents who use prayer healing.
In Pennsylvania, a couple has been charged with the death of their infant son from pneumonia after they refused medical care and relied only on prayer.
They were already serving 10 years of probation for the death of their two-year-old son in 2009.
Related Internet Links
The BBC is not responsible for the content of external sites.