San Francisco Bart train closed by labour strike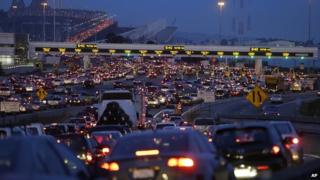 A labour strike has shut down San Francisco's transit rail system, the fifth-largest in the US, snarling the morning commute for 400,000 people.
Two of the Bay Area Rapid Transit (Bart) system's largest unions went on strike at midnight after last-minute pay talks with management collapsed.
The two sides - each of which said it regretted the inconvenience - accused one another of abandoning talks.
The strike is expected to put an extra 60,000 vehicles on the area's roads.
The Bart system, which also serves Oakland, Berkeley and other areas, was last closed by a strike in 1997 - for six days.
'No choice'
The unions sought a 5% annual raise over the next three years, dismissing a management counter-offer of 8% over four years as "surface bargaining".
"Our members aren't interested in disrupting the Bay Area, but management has put us in a position where we have no choice," Amalgamated Transit Union Local 1555 President Antonette Bryant told the Associated Press.
The other striking union, Service Employees International Union Local 1021, said it was awaiting another offer after Bart management left the bargaining table.
The unions represent nearly 2,400 train operators, station agents, maintenance workers and other staff.
Meanwhile, Bart management accused labour negotiators of walking away from talks.
"We have a long way to go but we can't get any closer if we aren't at the table," Bart spokesman Rick Rice said in a statement.
"The public doesn't deserve to be punished. We are sorry they have decided to strike despite the fact we are willing to negotiate."
San Francisco Mayor Ed Lee said the city would offer more transportation options on Monday and boost traffic control staff.